PUT A WOMAN ON A PEDESTAL!
New Shokan Kitchen Island Project (NSKIP)
VISIT OUR NEW SITE
Hello! Please visit our new website for current and updated information on StatueFest.
And enjoy the archived information retained here!
StatueFest at Snug Harbor FIGMENT Festival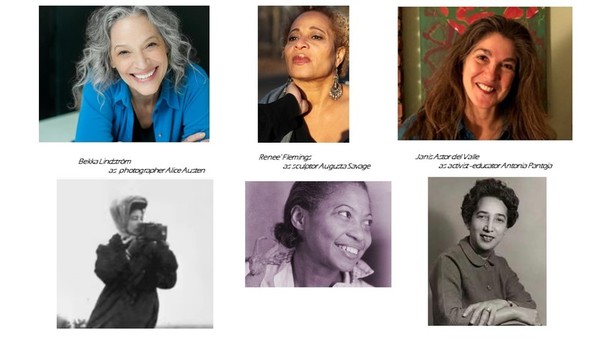 StatueFest Everywhere!
STATUEFEST Goes to Staten Island!
With FIGMENT Arts Festival at Snug Harbor Cultural Center on Staten Island
Featuring: Bekka Lindström as Alice Austen, written by Fengar Gael; Renee' Flemings as Augusta Savage,written by Renee' Flemings; Janis Astor del Valle as Antonia Pantoja, written by Janis Astor del Valle;. Dev Bondarin, directing.
Find us in the Connie Gretz Secret Garden! (Look for NSKIP StatueFest)
~ ~ ~ ~ ~ ~ ~ ~ ~ ~ ~ ~ ~ ~ ~ ~ ~ ~ ~ ~ ~
RECENT:
STATUEFEST Goes to College! For Women's History Month!
SUNY Purchase, March 25, 2022
~ ~ ~ ~ ~ ~ ~ ~ ~ ~ ~ ~ ~ ~ ~ ~ ~ ~ ~ ~ ~
STATUEFEST on STAGE appeared live Sept 30 and Oct 1 2021
PRTTheater, Midtown Manhattan
Special thanks to the City Artist Corps Grants and Pregones/PRTT ASAP Space Grant
Gallery, StatueFest on Stage, Click to View








PROGRAM A - Sept 30 2021 7 pm
Luisa Capetillo by Magdalena Gomez; Nikaury Rodriguez performing
Maria Irene Fornes by Lorca Peress; Maggie Bofill performing
Zora Neale Hurston by Cheryl L. Davis; Nan-Lynn Nelson performing
Mabel Ping-Hua Lee by Lucy Wang; Ashey Chiu performing
Dorothy Parker by Bev Thompson; Dara O'Brien performing
Frances Perkins by Deborah Savadge; Carole Monferdini performing
Emma Stebbins by Heather Jeanne Violanti; Cathy Haase performing
Mary Lou Williams by Martine Sainvil; Marjorie Johnson performing
PROGRAM B - Oct 1 2021 7 pm
Alice Austen by Fengar Gael; Bekka Lindstrom performing
Ruth Bader Ginsburg by Cindy Cooper; Sarah Baskin performing
Yuri Kochiyama by Christine Toy Johnson; Jo Yang performing
Barbara McClintock by Judith Pratt; Jean Brookner performing
Pauli Murray by Michael angel Johnson; Alinca Hamilton performing
Antonia Pantoja by Janis Astor del Valle; Janis Astor del Valle performing
Maria Tallchief by Laura Shamas; Jen Olivares performing
Allison Astor-Vargas, director (Sept 30 and Oct 1)
Read More in Broadway World
Mel Nunes, Production Manager; Kimmarie Bowens, Production Coordinator; Peri Margolies, Marketing
STATUEFEST: Zoom Events! March - June 2021!






About This Project!
Who Are the Statue-Worthy Women in New York?
The New Shokan Kitchen Island Project (NSKIP) asked women and women-identifying writers to create monologues about women who deserve a statue.
Read More on Medium
Read More on WomenArts
Read More on Broadway World
Read More on Up the Creativity
Raising Our Voices!
The Women on a Pedestal in StatueFest I on March 19, 2021
Bea Arthur - by Allison Fradkin, performed by Joan McGrath
Mabel Ping Hua Lee - by Lucy Wang, performed by Ashley Chiu
Barbara McClintock - by Judith Pratt, performed by Carolyn Cadigan
Augusta Savage - by Renee' Flemings, performed by Renee' Flemings
Clara Leimlich Shavelson - by Pauline David-Sax, performed by Lydia Gladstone
Maria Tallchief - by Laura Shamas, performed by DeLanna Studi
Directed by Dev Bondarin
The Women on a Pedestal in StatueFest 2 on April 16, 2021
Luisa Capetillo - by Magdalena Gomez, performed by Margarita Espada
Maria Irene Fornes - by Lorca Peress, performed by Elise Santora
Eva Le Gallienne - by Glenda Frank, performed by Faith Catlin
Dorothy Parker - by Bev Thompson, performed by Dara O'Brien
Lillian Wald - by Elisabeth Giffin Speckman, performed by Angela Pierce
Mary Lou Williams - by Martine Sainvil, performed by Sandra Mills Scott
Directed by Gwynn MacDonald
The Women on a Pedestal in StatueFest 3 on May 21, 2021
Stella Adler - by D. Lee Miller, performed by Denise Lute
Alice Austen - by Fengar Gael, performed by Myla Pitt
Zora Neale Hurston - by Cheryl L. Davis, performed by Nan-Lynn Nelson
Yuri Kochiyama - by Christine Toy Johnson, performed by Dawn Saito
Frances Perkins - by Deborah Savadge, performed by Carole Monferdini
Women of the Triangle Shirtwaist Factory - by Barbara Kahn, performed by Janis Astor del Valle, Aprella Godfrey Barule, Maja Wampuszyc
Directed by JoAnna Rhinehart
The Women on a Pedestal in StatueFest 4 on June 18, 2021
Henrietta Vinton Davis - by Carolyn Gage, performed by Laura E. Johnston
Ruth Bader Ginsburg - by Cindy Cooper, performed by Sarah Baskin
Marsha P. Johnson - by Nicole Ansari, performed by Raven O
Pauli Murray - by Michael angel Johnson, performed by Lynnette Freeman
Antonia Pantoja - by Janis Astor del Valle, performed by Janis Astor del Valle
Emma Stebbins - by Heather Jeanne Violanti, performed by Cathy Haase
Edith Wharton - by Martha Patterson, performed by Jean Brookner
Directed by Allison Astor-Vargas
Production Team: Mel Nunes, Tessa Freeman, Paola C. Solis-Ramirez